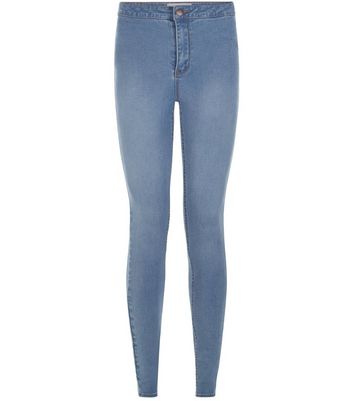 Opt for the everyday classic with these pale high waist super skinny jeans - great for finishing an array of daytime looks.- Button and zip fly fastening- Back pocket detail- Super skinny for the closest cut fit- High waisted design- Leg length: 32"/81cm- Model is 58/176cm and wears UK 10/EU 38/US 6. Size: 16 L32.
£19.99
Related Products
£19.99
Petite. Keep things casual with these skinny jeans. Pair with a bomber jacket and plimsolls for a casual look.- Soft cotton blend- Button and zip fly fastening- Skinny for a close cut fit- Model wears UK 10/EU 38/US 6 Petite size guide:UK size 4: Bust - 78cm, Waist - 60cm, Hips - 84cmUK size 6: Bust - 80cm, Waist - 62cm, Hips - 86cmUK size 8: Bust - 84cm, Waist - 66cm, Hips - 90cmUK size 10: Bust - 88cm, Waist - 70cm, Hips - 94cmUK size 12: Bust - 93cm, Waist - 75cm, Hips - 99cmUK size 14: Bust - 98cm, Waist - 80cm, Hips - 104cmUK size 16: Bust - 105cm, Waist - 87cm, Hips - 111cmFull leg length - 28/ 71cm. Size: 10 L28.
£29.99
For chic casual style opt for these ripped mom jeans. Pair with peep toe sandals and a cami top to complement.- Ripped design- Button and zip fly fastening- Classic 5 pocket design- Belt loops- Soft cotton finish- Casual fit that is true to size- Cropped hem- Leg length: 36"/91cm - Stephanie is 59/175cm and wears UK 10/EU 38/US 6. Size: 18 L32.
£14.99
Curves. From day to night, these black skinny jeans are a go-to piece throughout the seasons.- Zip and button fastening- Pocket detail- Belt loops- Slim fit- Model is 59/180cm and wears UK 18/EU 46/US 14 Created for women of size 18 to 28/EU 46 to 56**Selected styles are available up to size 32/ EU 60. Size: 26 L36.